KIKO MOHEDANO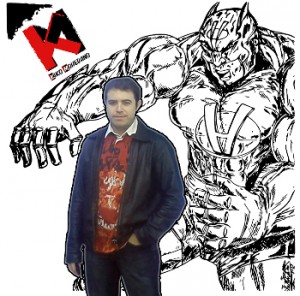 . 1 – How and when did you start reading comics?
Nearly 12 years
. 2 – When did you decide you wanted to be an illustrator ?
Historically
. 3 – Tell us a bit about your training process and what are your biggest influences ?
At age 15 I went to a school of drawing and I loved it so much more then I went more " art and craft " . My biggest influence was at age 20 when I met a lot of people involved in illustration and comics. And when I met digital tools .
. 4 – What do you like most about your job as an illustrator / cartoonist and least ?
What more , hand-drawing , shape an idea or sketch.
The least , to think that the public does not like my drawings.
. 5 – Why did you decide to join the project Twist webcomics comics?
It was a quick decision , my friend recommended it and I had no doubt .
Since this would be a more open to the world of what I like to target. And devote to it in more professional way.
. 6 – Could you explain a little your decisions when designing the Lord Chancellor Gjork the protagonist of the story and its human opponent ?
The design of the main character is a mixture in several films like "predator " or "star trek " something more "intelligence and powerful" so to speak. And with regard to human inspire me in the typical heroine Lara Croft as ( strong fighter ) and a more military apparel .
. 7 – How long have you spent on average per page and what was your process when drawing them and your communication with the writer ?
Each page takes several processes , while the process does not take many changes.
The main idea of ​​the sketch and the finished pencil work that I would be around one week. And another week to ink it and paint it digitally.
the process to be followed has been specifically idea sketch , finished pencil drawing, inking , scanning, I outline illustrator , photoshop painting, illustrator for placing snacks and texts. And back to pass photoshop finishing touches .
The deal with the screenwriter was totally right , he has helped me in some odd decisions and drawing on other occasions.
. 8 – What is the bullet that you are most happy with the comic? Explain what and if there are SPOILERS notified .
I think it would be on page 1, the first comic book pic .. what is most striking is the first thing you see when you start reading . This colorful, this light , these motherships . I love them.
Quiet no spoliers because it is the first bullet
9 – . Which are your next projects or you're working on right now ?
I'm waiting for a good script to start the second episode of Lord Chancellor shortly.
10 – . What is the work / illustration you're most proud of?
THE Lord Chancellor Gjork .. is the work that I'm giving more affection lately .
11.- Returning to the subject of tastes and interests . What series of comics follow regularly ?
Buff, many … "Batman ," " Justice League ," " X -Men ", " Ultimate Marvel " and some Japanese manga I always inspired by his drawings as " Berserk" .
12.- If you knew that tomorrow starts the apocalypse is what would you do today?
I never thought about , but I think it would sell out quickly and buy a spaceship, grab my loved ones and leave the planet .
13 – . What do you wish you were told when you received at the gates of heaven or hell ?
Like any man, a good women would be fine .. lol. But I'd settle for my collection of comics, my drawings and a white notebook and pencil.
14 – . What is the best advice you can give?
If you like to draw but think your drawings are bad and ugly, never give up.
There are many people who would like to taste and colors .
15 – . If you could eliminate one thing in the world what would it be ?
Politicians of course … and other corrupt on the planet and the people do not know .
16 – . Which expect good things to happen the coming months?
Well keep drawing and working on what you like and earn little money for it.